Certifications
Certifications - Agile Tester
As agile adoption continues within the industry, more testing and QA professionals are participating in agile projects. Likewise, the very nature of agile means that many non-testers are also regularly called upon to test. Coveros offers a number of courses that help both traditional testers/QA specialists and other software development professionals learn the concepts and the skills necessary to build better software and understand what makes testing on an agile project different.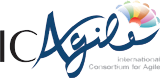 The International Consortium for Agile's goal is to foster thinking and learning around agile methods, skills, and tools. The ICAgile, working with experts and organizations across agile development specialties, has captured specific learning objectives for the different agile development paths and put them on the learning roadmap. ICAgile certification is skills-based and requires people to demonstrate they have learned both why (the value) and how (the mechanics) for a core set of skills. 
ICAgile's Agile Testing track focuses on the differences between agile and traditional software testing approaches, agile testing strategies and techniques, and test automation. Learners also gain an understanding of the tightly-coupled nature of agile testing and development, as well as the collaboration needed to to deliver quality software.
Coveros recommends Fundamentals of Agile Certification—ICAgile as both as a prerequisite for those seeking ICAgile's Agile Testing certifications and those practitioners who recognize the need to focus on "being" agile in addition to "doing" agile. Upon completion, successful attendees will be certified as an ICAgile Certified Professional (ICP).
Successful attendees of our Agile Tester Certification course are awarded the ICAgile Certified Professional in Agile Testing (ICP-TST). Additionally, the certified attendees will be listed on the ICAgile website, indicating their designation.
Agile testers, test engineers, test managers, and developers will benefit from our Agile Test Automation—ICAgile course. Successful students can earn the ICAgile Certified Professional in Agile Test Automation (ICP-ATA). The certification focuses primarily on test automation from an agile tester's perspective, strategies for creating automated story and feature tests, as well as system and integration tests.
On-Site Training
Let us bring the training directly to you! Choose from over 60 courses.
Our Promise
For more than twenty-five years, Coveros companies have helped thousands of organizations reach their goals of producing high-value and high-quality software. We offer a 100% satisfaction guarantee on all of our training courses. Our promise is simple—if we are unable to satisfy you, we will gladly refund your registration fee in full.
See What Our Students Have to Say
" "This course should be provided to all developers, functional testers, and QA testers.""
Defense Logistics Information Services
"Very informative overview of the challenges and opportunities in mobile testing. I have many take aways. I appreciate Jeff's straight forward delivery."
" Greatly appreciate the overall knowledge of the instructor and his ability to relate the course material to reality. This allowed the information to become clear for me. "
Never Miss a Thing.
Sign up for our mailing list and stay up to date
on training opportunities.