Training Events
Agile Coding Workshop
Agile Coding Workshop
Learn to build better code with less effort and fewer defects in our Agile Coding Workshop. Designed for team members in both Dev and Test roles, this interactive, virtual event provides both hands-on learning and knowledge-sharing collaboration.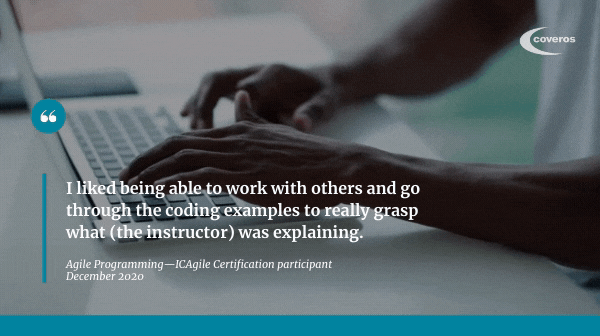 Agile Coding Workshop Course Pricing
Pricing
3-Day Agile Programming—ICAgile Certification
$1495
2-Day Agile Unit Testing Workshop
$1495
Maximize your Learning and Save $795 when you take Both!
5 Days—Agile Programming + Agile Unit Testing
$2195

Groups Always Save with Coveros.
Groups of 3-5 can save 10%, and groups of 6+ can save 20%. Check out our
Ways to Save
to learn more, or contact our Client Support team at 929.777.8102 for custom group pricing.
Can't make the Agile Coding Workshop? We offer our most popular agile dev and testing, DevOps, security, and software tester certification courses every quarter in our interactive Virtual Classroom. Check out our Training Calendar to see all of our upcoming classes.
Never Miss a Thing.
Sign up for our mailing list and stay up to date
on training opportunities.