Learning Paths and Learning Journeys
Learning Paths and Learning Journeys
To be successful in this fast-paced industry, organizations and individuals must be committed to a culture of continuous learning. But learning initiatives can struggle without defined training paths for individuals and teams to follow over time. Defined paths create a structured learning experience and foster a culture of continuous improvement within an organization.
Our learning paths are combinations of courses that accelerate skills development by providing software professionals with appropriate, on-going training. These courses build on each other and are designed to move process knowledge and skills from foundational to advanced capabilities. When combined with hands-on coaching and mentoring, they create learning journeys that help teams and organizations accelerate the development and delivery of secure software.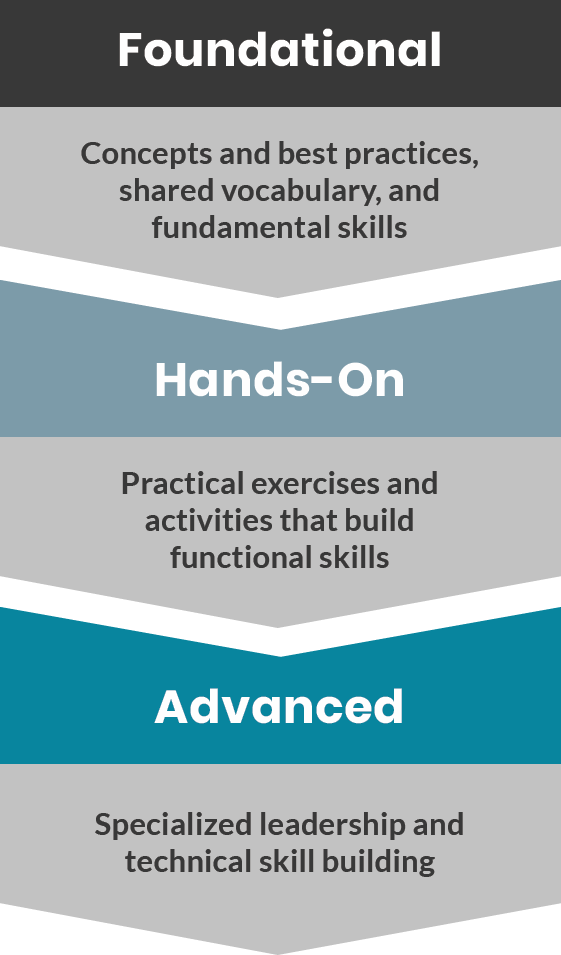 We have outlined learning paths for several common job functions below. If you have any questions about our individual courses or would like to speak to one of our training professionals about creating a custom journey for your organization, schedule an appointment by calling 929.777.8102.
Select your job function and topic specialization level to receive course suggestions.
Course

Public

Live Virtual

On-Site
See What Our Students Have to Say
See What Our Customers Have to Say
"Great class for application developers and management to attend as well as test managers to better understand testing."
"As a experienced QA tester for client apps, web. I now have a much better understanding on what to test with mobile! I had misconceptions that the instructor explained very well and opened up areas I had never thought of!"
" The training covered several topics, it included examples and the presentation was easy and clear. The participants had the chance to interact and the trainer's answers to the questions were relevant and exhaustive. "
Never Miss a Thing.
Sign up for our mailing list and stay up to date
on training opportunities.